Basements Flooding From Plumbing Failure Near Ithaca, Binghamton, Elmira
Protect Yourself Against Plumbing Failures In Basements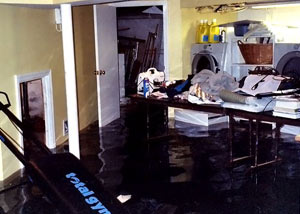 When your home experiences a plumbing failure, it can damage carpet, drywall, appliances, and stored personal possessions.
A plumbing failure is more likely to be covered by an insurance company than groundwater flooding damage.
The most common claims that insurance companies pay out on homeowner's policies are related to water-damaged homes.
This kind of damage can be extensive in walls, floors, and with everything stored within the flooded area. The mold that follows a flood can also have serious long-term health effects. If the damage is not addressed right away, it will worsen quickly, and can easily mount to a need for very expensive repairs.
While it's not practical to try to prevent every pipe, toilet, sink, tub, faucet, and other pieces of home plumbing from ever experiencing a leak, there are some simple, common-sense steps that can be taken to prevent some of the most common plumbing failures that occur.
At Southern Tier Basement Systems we suggest installing two simple, effective solutions for the most avoidable basement flooding causes. These add-ons will help you to have the best plumbing failure protection available for your basement space.
Get a FREE Quote!
We have simple, common-sense solutions for preventing the most common causes of plumbing leaks in basement spaces.
To schedule your free, no-obligation basement waterproofing quote, call or e-mail us today! We're proud to serve Ithaca, Binghamton, Elmira, the surrounding areas of Johnson City, Vestal, Horseheads, Endicott, Newfield, Lansing, Conklin, and many nearby areas.
Alarm Systems For Sump Pumps
Sump pump systems can flood for many reasons, including clogged drains, frozen discharge lines, and pump burnout. Whether your sump pump has an issue or your home has a plumbing failure, you're going to want to know as soon as possible.
To help keep you informed of any potential floods, each of our systems has a built-in WaterWatch® Sump Pump Alarm included in its installation. This will sound off when a flood occurs, letting you know right away. Our newest systems also include the option of being tied into many home alarm systems for ultra protection-- so you receive a phone call when the alarm sounds off.
Our sump pumps also include a floor drain with a unique ball-and-cup design. When water from the floor enters the drain, the ball floats, and the water flows through. When the water is gone, the ball returns to the bottom of the drain, sealing the opening from humidity and odors that would otherwise rise from the sump pit.
We Protect Basements From Plumbing Failures And Flooding!
Whether water from a flooded basement comes from the home's plumbing or from the earth around the foundation, the results are the same -- a wet basement, and damage to everything inside.
At Southern Tier Basement Systems, we want to help you keep your basement dry and flood free. To help you decide which options would work best for you, we offer free basement waterproofing quotes to all homeowners in our New York service area. To schedule your free, no-obligation quote, call or e-mail us today!
We proudly serve Elmira, Ithaca, Binghamton, surrounding areas such as Endicott, Johnson City, Vestal, Conklin, Newfield, Lansing, Horseheads, and nearby.
Looking for a price? Get a no cost, no obligation free estimate.